Electric Violin
You will learn in a practical way popular music knowledge with contents of harmony and theory and most importantly, the execution of the Electric Violin instrument mixing classical pieces, pop, jazz, techno and other modern rhythms.
We are the only School with an electric violin in the Biobío Region
Functional Guitar
As one of the most popular instruments, the guitar has great potential among its noble strings, if you want to learn it, it will allow you to play a wide and varied repertoire, both learned and popular or folk.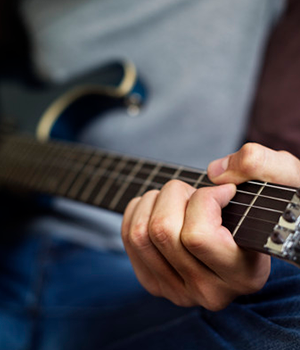 Electric Guitar
The classes will enable the student to be trained with the appropriate tools to develop their musical concerns, giving greater emphasis to creativity.
Some of the points to be taught by the teacher will be harmony, rhythm, development of melodic lines, knowledge and development of applied techniques for fingering and handling of the pick (uñeta), improvisation, knowledge of scales, development of chords, musical reading , standard encryption tablature, introduction to composition, group development, instrument and effects technology, programming and sound effect settings, tempo and pulse concepts, introduction to fixes.
Drums
Drum lesson in all styles, which will provide students with the necessary and appropriate knowledge for a correct and effective development of the instrument.
In this way they will develop the concepts and rhythmic development, exercises of dissociation of hands and feet, individual development of each of the parts that make up a battery. Requirements and concepts to form a band, knowledge of the Groove bass relationship, kick drum, application of sequences or clicks, development of the internal pulse, analysis and developments of different musical styles, for their practical application.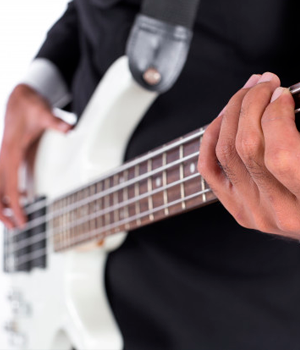 Bass Guitar
The class consists of acquiring theoretical-practical knowledge of popular music with contents of harmony, reading, writing and execution of the electric bass instrument, encouraging the management of a musical repertoire that allows students an approach to the various possibilities that the execution grants of the instrument